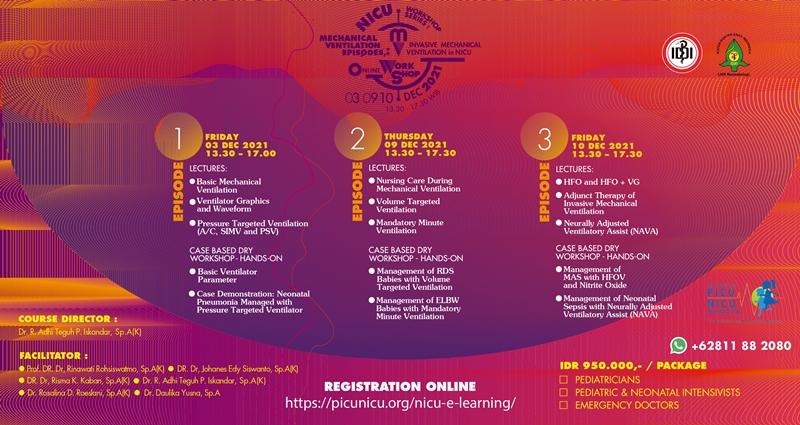 NICU WORKSHOP SERIES: MECHANICAL VENTILATION EPISODES
INVASIVE MECHANICAL VENTILATION IN NICU ONLINE WORKSHOP
03, 09 & 10 DECEMBER 2021 | 13.30 – 17.30 WIB
Mechanical ventilation is a common therapy in the neonatal intensive care unit (NICU). However, developing proficiency in mechanical ventilation requires a significant amount of knowledge and experiences. The use of mechanical ventilation requires a basic understanding of respiratory physiology and pathophysiology of the disease leading to respiratory failure. Understanding pulmonary mechanics, elastic and resistive forces (compliance and resistance), and its influence on the inspiratory and expiratory time constant, and the mechanisms of gas exchange are necessary to choose the best mode of ventilation and adequate ventilator settings to minimize lung injury.
This NICU series workshop session (Episodes I, II, and III) will provide the comprehensive guidance and complete review of Invasive Mechanical Ventilation in Neonatal. From the basic understanding in respiratory physiology, fundamental concept of mechanical ventilator, the modalities of invasive ventilation, to advance mechanical ventilation strategies such as HFOV and NAVA. This workshop program included practical examples, ventilator demonstration, and interactive hands-on discussion session in various clinical case based problem. This workshops will enables participants to remain up-to-date with the developments in neonatal ventilation and provide the opportunity to discuss clinical problems with our national experts.
https://picunicu.org/wp-content/uploads/2021/09/BANNER-NICU-MV-ALL-800X425-02.jpg
425
800
prsetiadi
https://picunicu.org/wp-content/uploads/2020/07/picunicu-weblogo.png
prsetiadi
2021-09-14 20:03:58
2021-09-23 19:51:04
INVASIVE MECHANICAL VENTILATION IN NICU